Empowering

Real Estate Agencies

with Digital Solutions.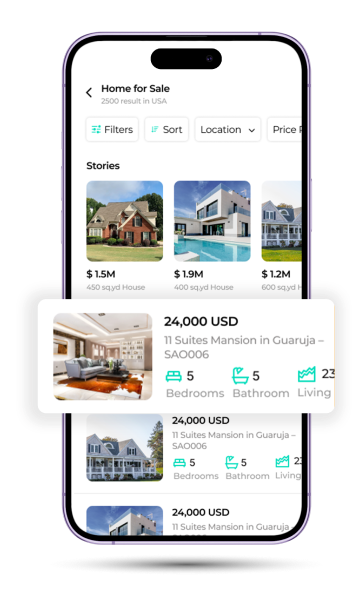 "10+ years of experience, 100+ happy clients - we are your trusted partner for website and mobile app development."

CUSTOMIZED PROPERTY RESEARCH

Our advanced real estate platform delivers tailored property search experiences with dynamic filters, refining results to match client's preferences. Elevate your real estate game with our customized solutions.

PROPERTY LISTINGS

Discover the ultimate property search convenience with our platform, featuring thousands of organized listings, custom maps, and virtual tours. Available on mobile, we help clients make informed decisions with ease.

INTERACTIVE MAPS

Elevate your property listings with our customizable, immersive maps that highlight nearby amenities, schools, and transportation. Our visually appealing and interactive maps will set you apart from competitors and attract clients. Partner with us to upgrade your real estate experience.

LEAD GENERATION TOOLS

Elevate your real estate business with our advanced AI-powered lead generation tools, personalized marketing campaigns, and real-time analytics. Join us to optimize your marketing strategy, enhance conversions, and receive professional guidance. Enroll today to revolutionize your business.
"Our work process is divided into 4 distinct phases, each of which plays a crucial role in ensuring the success of your project."

Discovery & Planning
Understand your unique vision and plan for success. Identify goals, budget, and timeline to create a comprehensive roadmap.

Research & Design
Innovative design solutions based on research, user experience, and brand identity, with client feedback throughout.

Development & Testing
Expert developers bring design to life with agile development, thorough testing, and client collaboration.

Launch & Monitor
Launch your product with confidence, then monitor and optimize for continued success with data-driven insights and support.
"Empowering Real Estate Websites: Latest News and Tips for DIY Website Tweaks"